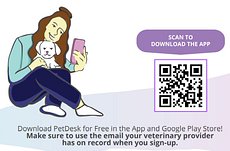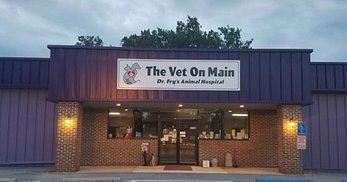 Email Med Requests to RxTVOM@gmail.com - Please allow 24 hours for processing
Visit Our Online Store, Save 10% with ONLINE10
https://thevetonmain.vetsfirstchoice.com/
Effective 1/1/2022 - TVOM will no longer approve prescription requests from outside pharmacies by phone, fax or online. Our new policy will be to issue you a hand written prescription for you to pick up.
ACCEPTING NEW CLIENTS WITH $75 NON-REFUNDABLE DEPOSIT
NO RETRACTABLE LEASHES!
After Hours + Emergencies Call:
Berks Blue Pearl (610) 775-7535
Metro-Vet (610) 666-1050
PETS in Lanacaster (717) 295-7387
RUSH Urgent Care (610) 224-7874
Welcome to
The Vet On Main (TVOM)
At The Vet On Main, we are dedicated to treating every Pet as an individual and tailoring our services and care to meet the unique needs of both you and your Pet.

Dr. Jennifer Fry has been serving Berks County since 1998. We are conveniently located on Main Street (Route 724) right next to the Post Office. Our office is fully equipped and staffed so that we can provide a wide range of medical and surgical services for your Pet.
Our Goal is to be an Advocate for the Pet & Promote Preventative Care so our Patients can enjoy a Happy Lifetime of Good Health with their Families.
CHECK OUT DR. FRY IN THE READING EAGLE.
ONLINE VET SUPPORT
LIVE CHAT with a VET www.ask.vet
whiskerdocs.com (800) 873-8838
(companies are not associated with TVOM and charge a fee for service)
Monday
Tuesday
Wednesday
Thursday
Friday
Saturday
Sunday
Holidays......
8:00am to 6:00pm
8:00am to 5:00pm
8:00am to 6:00pm
8:00am to 7:00pm
8:00am to 5:00pm
8:00am to Noon
Closed
Closed
SPECIALS AT TVOM...
Save $15 off Proheart12 Injection plus get a Free Dog Toy and Sunglasses. Enter to Win Prizes and get a $15 online reward.
BRAVECTO SPECIAL INSTANT REBATES...Save $38 on 4 Doses tgil 5/19!
SHOP LOCAL AND SAVE OVER CHEWY!

REVOLUTION PLUS FOR CATS and PROHEART12 ffor Dogs
$15 Online Rebate
NEW PET ODOR EXTERMINATOR CANDLES + AIR FRESHENERS
MILBEGUARD Heartworm & Parasite Prevention - Save 20% on 1 Year Supply Plus $10 Rebate!
$12-25 Rebate on 6-12 months of VECTRA & MILBEGUARD
Organic CBD Oil & Treats--helps with immune system, inflammation, anxiety, pain, seizures and general wellbeing!
Dr. Harvey's Paradigm LOW Carb Superfood = Homemade Dog Food in 3 easy steps...
Phycox Max, Buy 6 Get 1 Free
SAVE 15% off Microchip-Controlled FEEDER https://bit.ly/3lUOoOf
HOURS ...
Closed Sat May 27th